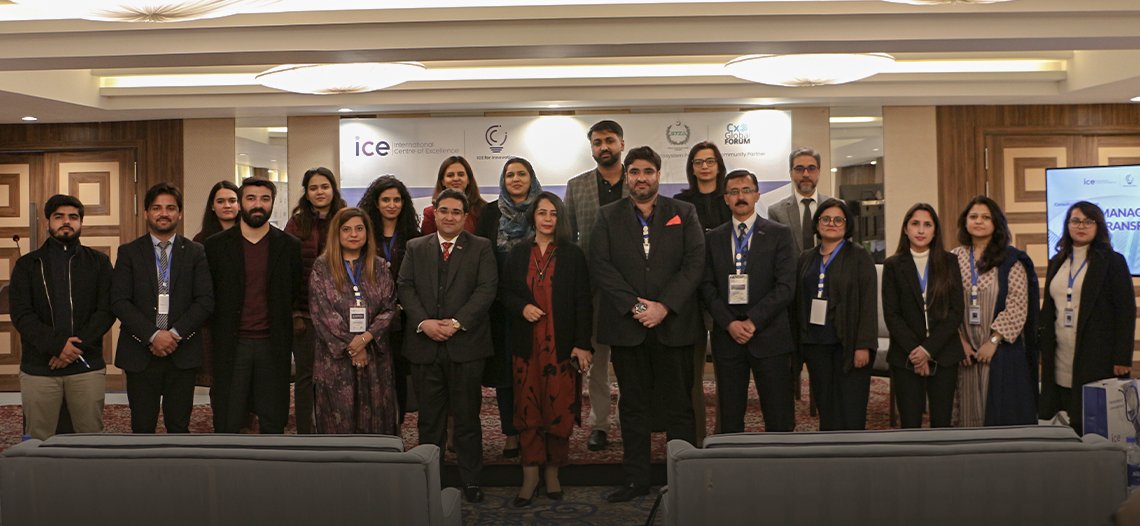 The International Centre of Excellence (ICE) campus in Islamabad, Pakistan, hosted a one-day capacity-building session on the 13th of December 2022. This event aimed to discuss the key factors important for the organisation's well-being and get insight from all the managers on how they implement these factors in their daily work regimes. 
At the International Centre of Excellence, ICE Pakistan, established by iQualify UK, a British education provider, we aim to work for the betterment of future generations and to focus on developing managers through lifelong learning and development programs. Moreover, ICE envisions providing the platform and tools for viable transformation of Pakistan's human capital and fostering the leaders of tomorrow.
We are delighted to report that notable industry people, including respected members such as Mr Hassan Tirmizi (Head of organisational development of NLC), Ms Alia Zafar (Group head HR of The Bank of Punjab), Mr Ubaid ur Rehman Chaudhary (General Manager HR of Inbox Business Technologies), Ms Hina Nasir (Director Outreach and Events of STZA), Ms Tehmina Shahryar (Team Lead of S&P Global), and Ms Sumbal Manzoor (Head of the centre at ICE) were a part of a panel discussion, "Management Transformed" during the event. 
Of the representatives invited to speak at the event, the first was Mr Hassan Tirmizi (Head of organisational development of NLC), who was the keynote speaker and he began his address by explaining terms such as who is a manager, their role, and effectiveness. While talking about the managers and their productivity, he raised a thought-provoking question, How can we transform ourselves to become new change makers? Being a changemaker, according to him, isn't just about identifying problems; it's also about coming up with solutions. The main objective of his discussion is to help aspiring managers take a few guiding principles from the existing managers and senior leaders. During his address, Mr Hassan Tirmizi emphasised the following:
                      𝗥𝗼𝗹𝗲 𝗼𝗳 𝗺𝗮𝗻𝗮𝗴𝗲𝗿𝘀 𝗳𝗼𝗿 𝗲𝗺𝗽𝗹𝗼𝘆𝗲𝗲 𝗲𝗻𝗴𝗮𝗴𝗲𝗺𝗲𝗻𝘁
The event was followed by a Panel discussion.
Ms Alia Zafar (Group Head HR of The Bank of Punjab) was one of the finalists. She opened by talking about the importance of equity, equality, and the drive of HR. She pointed out that Each of these concepts is important, but when combined, they can create a truly inclusive workplace and welcome to all. While talking about leadership, she noted that everyone has an opinion on what makes a good leader, so we need to work from the ground up and see how we can impact the hierarchy of operations. She further added:
 We should make the workplace more inclusive because positive company culture has been linked with higher output, lower absenteeism rates, and lower work turnover.
The next panellist was Ubaid ur Rehman Chaudhary ( General Manager HR of Inbox Business Technologies), who emphasised the importance of trust in any organisational culture. He discussed that trust in the workplace means your employees enjoy a culture of honesty, psychological safety, and mutual respect. They're proud of where they work and are more willing to go above and beyond for your organisation. Trust in the workplace also helps employees feel secure in their jobs.
Ubaid pointed out that in the workplace, the KPIs are the biggest part of empowering and uplifting any organisation: 
They give you the knowledge necessary to comprehend your company's performance and overall outcomes, allowing you to make the necessary changes to your execution to meet your strategic objectives.
Ms Hina Nasir (Director of Outreach and Events of STZA) began by sharing that we need to open up to the organisational noise. She pointed out that excessive workplace noise has several adverse outcomes, such as decreased productivity and more difficult communication between managers, associates, and team members. She added that it is important to pay close attention to this issue in the workplace because:
60% audience feel they are in the power distance culture
Ms Tehmina Shahryar (Team Lead of S&P Global) also inspired the audience by talking about the role of the boss. She said that as a boss, you are being managed and responsible for how your team members respond. Their main role is helping employees to reach their goals and handle a business's daily production and processes. They also plan the next steps for managing projects and potential hires.
Don't take empathy as putting yourself in the shoes of others. Don't let it override you; she said while impressing the importance of aspiring managers and junior workers of the organisation.
Ms Sumbal Manzoor (Head of the Centre – ICE) gave the concluding remarks. She stated that the success of a leader is a success of a group. Leaders are always accountable for their actions because they have to help their team understand their focus areas and achieve their goals.
To be successful in the workplace, she added that one must identify their Grit (Skill and Talent). Sumbal pointed out that Grit starts from passion, so understand your Grit before joining any organisation.
Following her speech, Ms Sumbal Manzoor, Head of the Centre, distributed token of appreciation to the speakers' for their contribution. She expressed her gratitude to the attendees who made the time to attend and enhance the audience's experience with their professional expertise and those who played an integral role in making the event a success.
Moreover, for those business professionals and managers who want to upgrade their management and leadership skills, the Postgraduate programme is the most beneficial for them to pursue their careers in worldwide. To enrol now: https://ice.edu.pk/level-7-diploma-in-business-management.