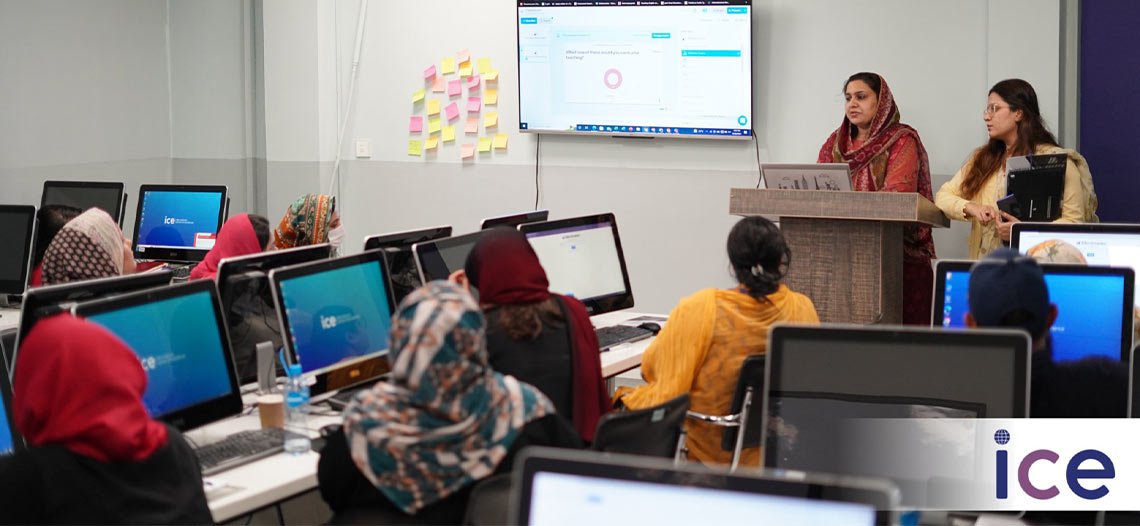 Digital Pedagogy Training
The study of how to use digital technologies to best impact teaching and learning is known as "digital pedagogy." Digital technology is a broad phrase that can refer to both older established and more recently developed technologies. It is the use of electronic components to improve or alter the educational experience. Digital pedagogy can be used in face-to-face, hybrid, and online learning settings.
A training session was conducted on June 28, 2022, on digital pedagogy at the ICE (International Center of Excellence) campus in Islamabad. Faculty members and education specialists from commercial and public sector institutions were present. ICE Pakistan had expert trainers with international exposure share their experiences and best practices. This training's goal was to acquaint our teachers with Ed-tech resources so they can adopt digital pedagogy in both face-to-face and online teaching environments to improve the delivery in digital classrooms.
Training areas comprised of:
Pedagogy and its Types
Human Cognition
Impacts of Cognitivism on human learning
Types of Learners and Learning
Types of Learning Disabilities
The solution to learning disabilities with Technology.
Introduction to Ed-Tech tools.
Impact of digital tools on the learning process.
There was practical hands-on learning experience on Nearpod and Padlet.
Attendees held the opinion that using digital tools can be a means to address students' varied strengths and shortcomings in the classroom. This seminar had a lot to offer for everyone, whether they are teaching online for the first time, or are experienced, learning technologists. ICE Pakistan aims to conduct such training seminars for learners from various professional backgrounds.