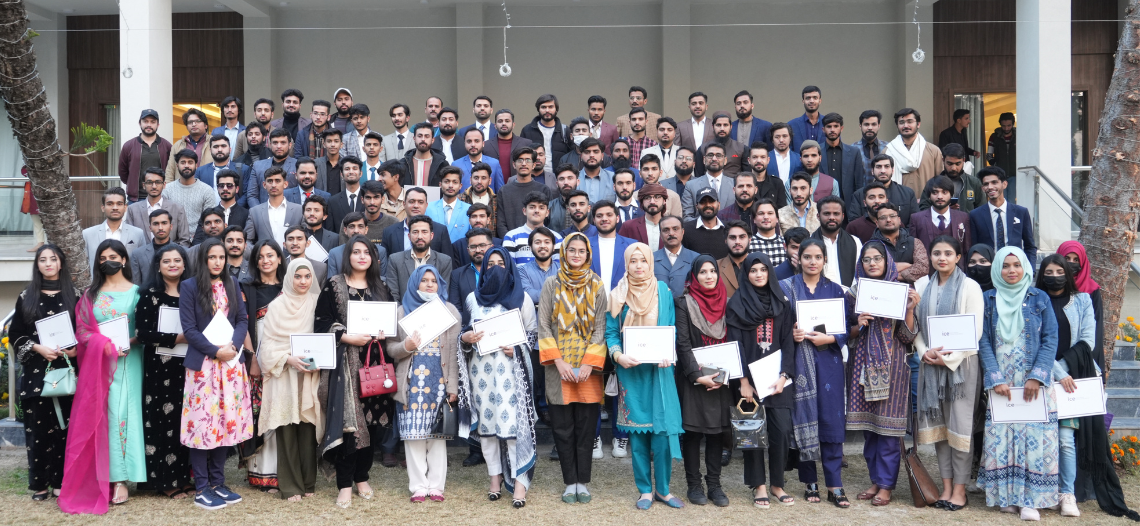 NAVTTC Graduation Ceremony
International centre of excellence hosted NAVTTC Graduation ceremony on 22nd December 2022 at IFQ Hotel, Islamabad. They have announced the successful completion of their first batch of NAVTTC students enrolled with skill based programmes with a grandeur event.
NAVTTC has been operating successfully since 2005 under the Ministry of Federal Education and Professional training with the agenda to provide a platform and an enabling environment for the development of employable skills free of cost to the youth of Pakistan. This involves rigorous training of six months with 180 credits covered each month.
At ICE Pakistan, we received more than 1800 applictaions and only 250 candidates fell into merit. This programme has singlehandedly provided 250 candidates a chance to prove their mettle and to varnish their skills to earn better livelihood for themselves.
ICE Pakistan vision is to help bridge the gap in the job market by training the youth with the 21st century employable skills. The academic team made sure that the trainees evolve both professionally and personally throughout their six months journey. The candidates were taught in demand technical courses of Amazon Virtual Assistant, Digital Marketing and SEO, Data Mining and Business Intelligence.
It has been an honour and a humbling experience to help provide a platform to this dynamic group of individuals who enroled with ICE Pakistan from across all four provinces. To honour their achievement and to celebrate their successful journey, NAVYYC graduation ceremony was held in an augustus gathering.
Mr. Azam Jamil (Former Minister of State & Special Assistant to the Prime Minister for Tourism Coordination – Pakistan) was the Guest of Honour on the day and he shed light on the facts in the employer market in a light-hearted manner. He advised the youth to go beyond making fancy resumes and focus on how each individual morals, values and ethical conduct are considered as deciding factors while recruiting more than education. He also added that education is just a foundation, it is one's self belief and resilience to create a mark out of it.
Mr Qazi Azmat Isa (Former CEO PPAF) was the keynote speaker on the day and he emphasised on the need to create employers out of the youth in Pakistan. We as a country should prioritise on opening avenues for youth who can bring forward necessary interventions needed to create sustainable solutions to address the industry-academia gap. He congratulated ICE Pakistan for their contribution to train the Pakistani students with global vision.
Students also sared their contentment and success stories with the audienece as part og the Graduation agenda. The event was concluded by distributin awards and certificates to students, faculty members and the management team by Head of Centre, Sumbal Manzoor, Group Head HR, Dr. Ali Nemati along with Director NAVTTC Mr. xyz.
Team at ICE Pakistan always strive to offer skills-based qualifications which helps individuals build a better future and a progressive Pakistan. . ICE Pakistan also hopes to continue positively impacting lives through such initiatives.